I've always loved the idea of a 3d printed immediate transitional temporary for fixed hybrids because they're nearly free to fabricate but the Achilles heel was the strength……I've had them snap in half because they're more brittle. Well, I think we now have a solution that makes it viable.

This post shows how I used a Trilor Arch Bar to give strength to an immediate prosthesis. We are now selling these at BSB and there are literally tons of possibilities with these. The big benefit is that it is incredibly strong, even in small dimensions and that it can be trimmed and customized chairside.

This is just a demo model and not a clinical case so don't start with me about it being an All On 3!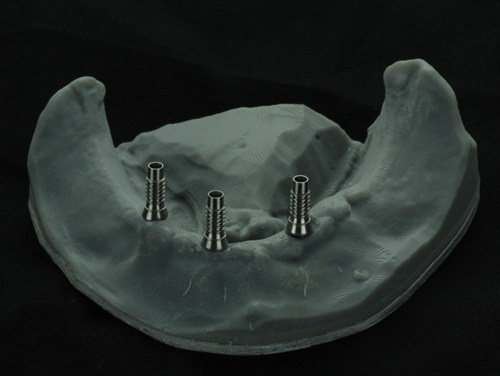 OK suppose this is your patient and this is in the mouth, not on a model.
You could take a piece of pink wax and index the positions of the multi unit cylinders.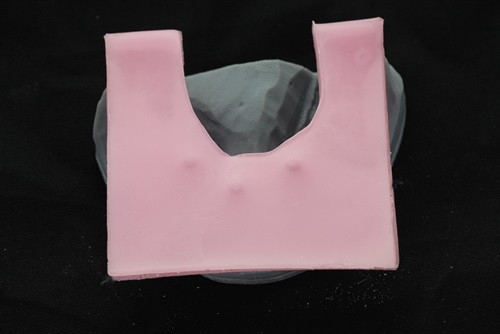 Here are the Trilor arch bars- they come 3 to a box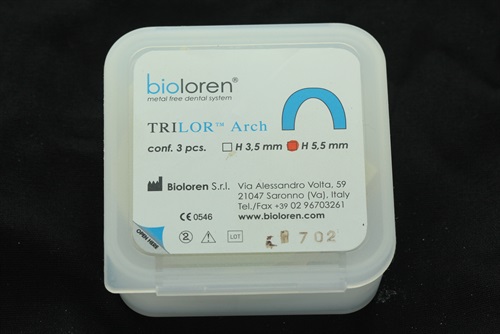 These come in 3, 5, and 7 mm thickness. These are 3mm thickness in this case. I wanted to use the smallest dimension to really see how strong this stuff is.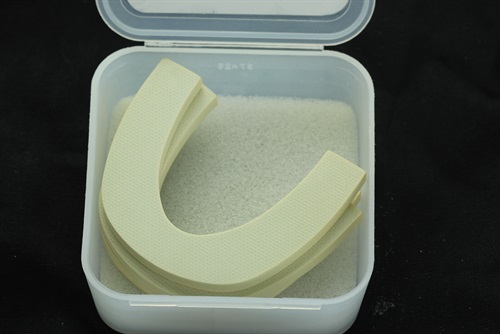 You can lay the pink wax template over the bar and mark your holes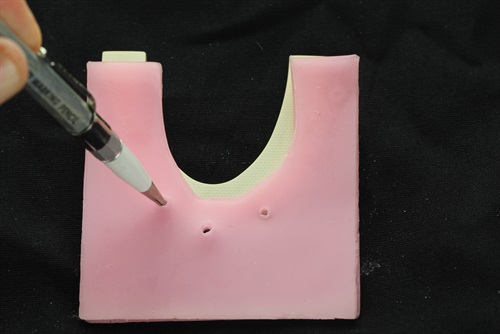 Now just use a lab handpiece to punch through.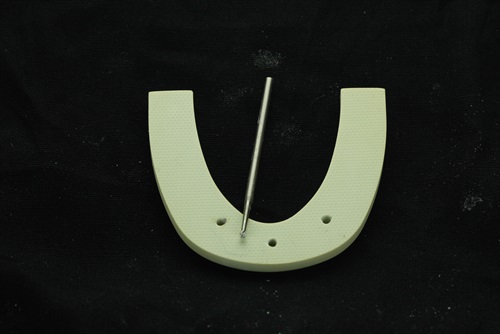 Once it fits over the cylinders, you can begin trimming down the overall width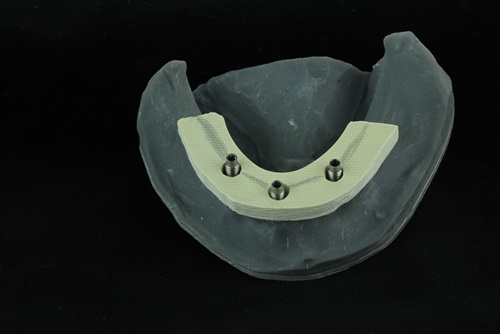 When you've got it roughly shaped (and again, remember, this is done chairside), you can perform a pickup using the material of your choice to bond it to the cylinders.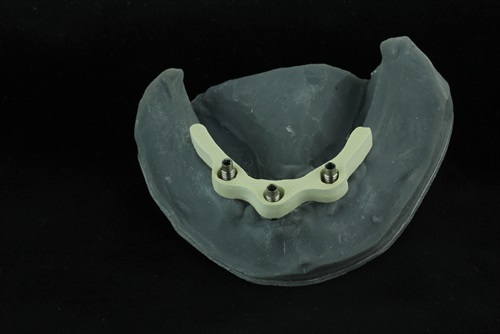 This now creates a passive and extremely rigid/strong bar across the multi units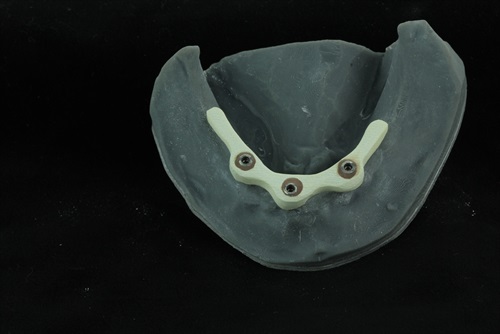 For this application, I'd suggest trimming slightly on the underside to make a high water design. This allows it to be encased in the pink acrylic once the pick up in the prosthesis is done.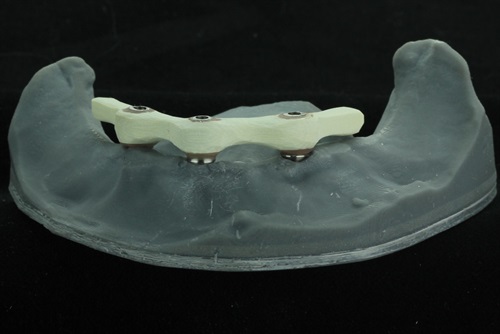 For my prosthesis, I just 3d printed a denture that I designed in the soon to be released Blue Sky Bio Denture Software. But this could have just as easily been the patients existing denture hollowed out or a lab fabricated shell denture. Use whatever you have at your disposal.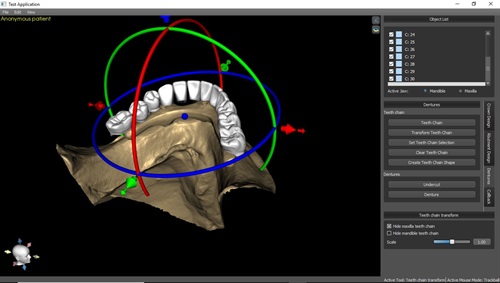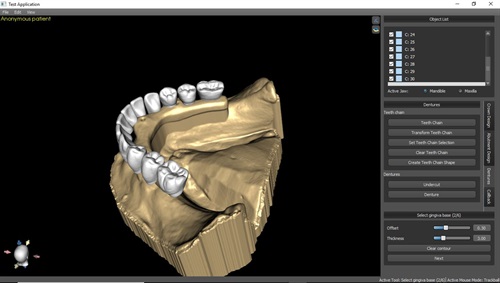 Printed base design with denture tooth sockets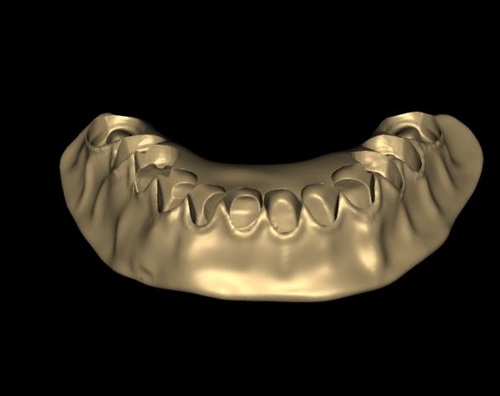 teeth in place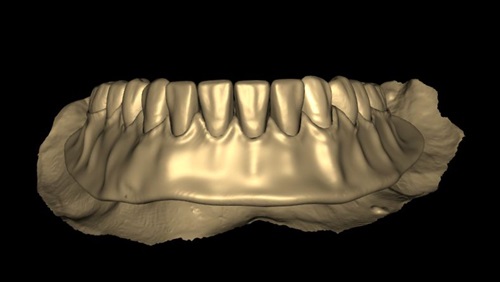 Here you can see the underside.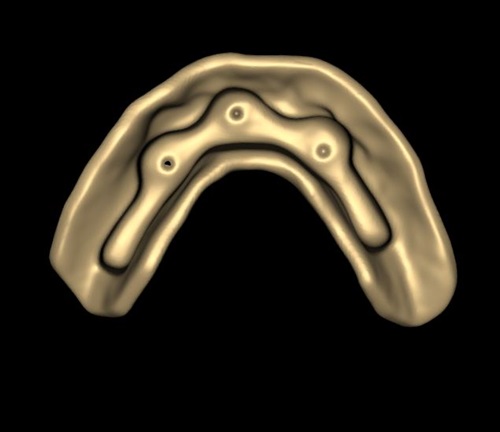 So I printed the base in Nextdent Denture Base and then the individual teeth were printed in Nextdent Crown and Bridge resin.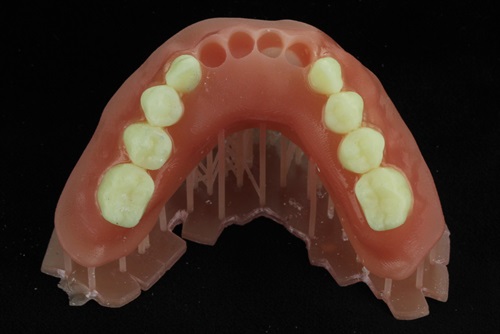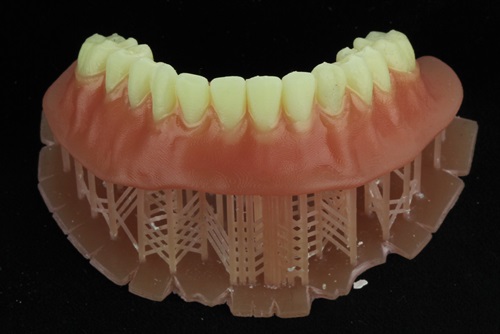 Here you see the final printed denture (cost me under $5). But don't get hung up on the prosthesis type. This could also be a shell denture or the patients existing denture.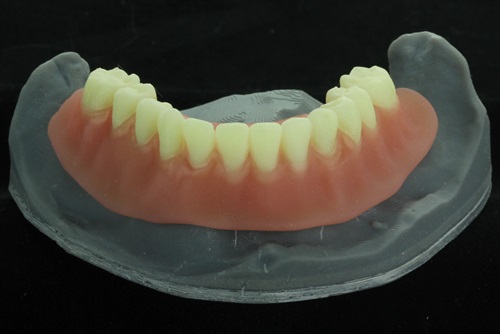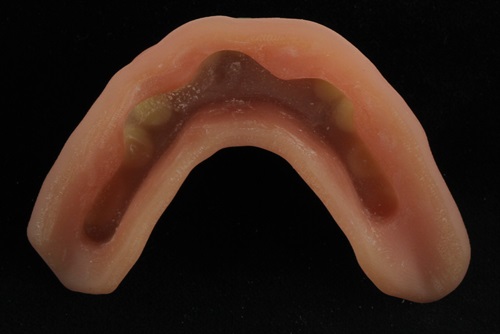 Get this fitting over the bar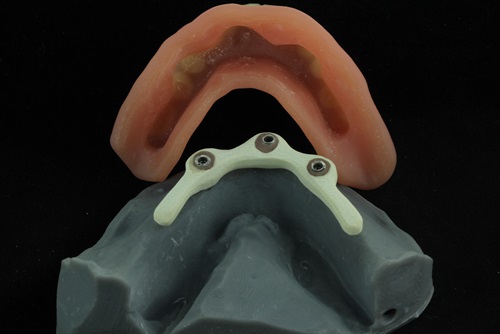 In this example, I picked up the bar first, then imaged and designed the denture. Obviously, you will not be able to do that with an immediate conversion because it takes time to design and print. But you could do it and deliver later that day or next morning. The big advantage is that it will make your pickup more precise and maintain bulk of material so you're not doing a lot of shaping outside the mouth
You can see how precise the "bar" fits inside the printed denture.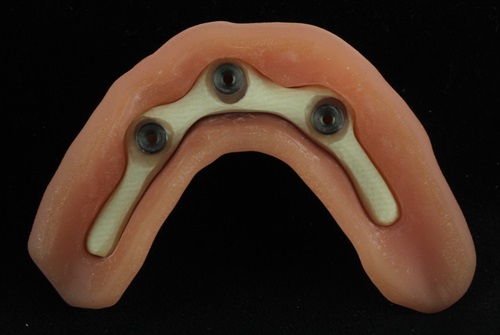 Long screws were placed and holes were created for them to do the pickup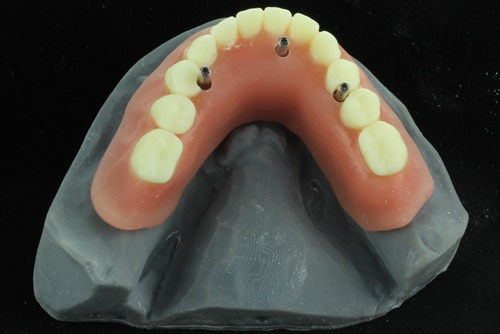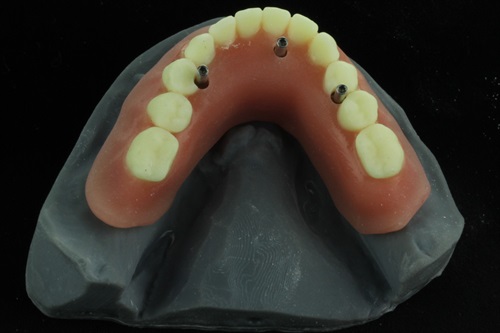 Now use pink acrylic, composite, pink bisacryl………..whatever material you like to complete the pickup of the "bar" in the denture.
Once the pickup is complete, you can cut off the flanges, and shape the underside to be cleansable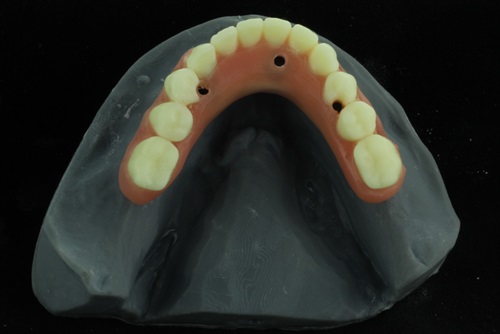 Here is the final temporary prosthesis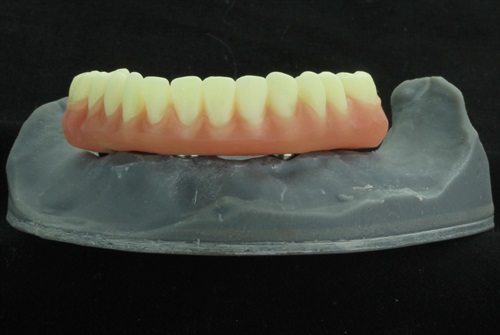 It has a cleansable intaglio side and the Trilor bar is completely encased.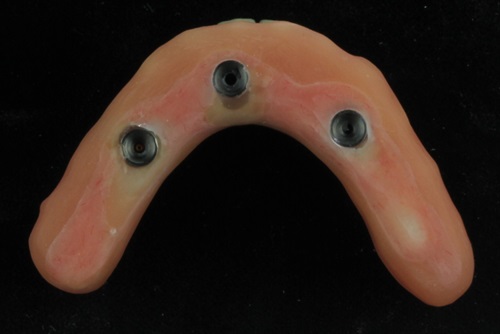 Most importantly, this is incredibly STRONG. I'm not a small feller and I squeezed this with all my might and couldn't break it.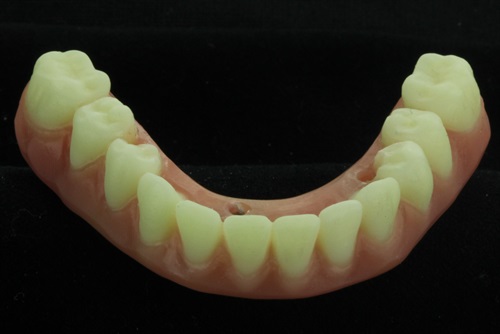 The weakest link here is not going to be fracture of the prosthesis but rather chipping of individual teeth. For this reason, I wouldn't make my definitive fixed hybrid by this method. Here's where we just have to wait for our material chemistry to catch up to the printing technology. However for a temporary prosthesis, this is an more than adequate and it's very affordable to create.
My all in costs here were less than $100 for this transitional prosthesis and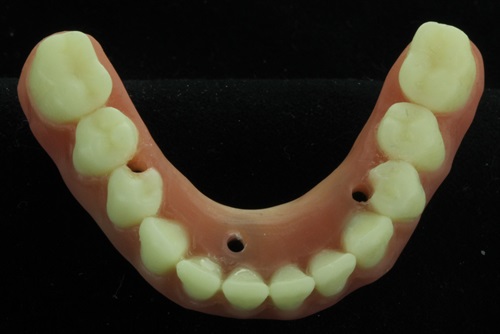 This is but one application of these arch bars but there are so many others. You could make definitive bars with Locator attachments. You could also make definitive prosthesis with these also. Would love to know your thoughts!